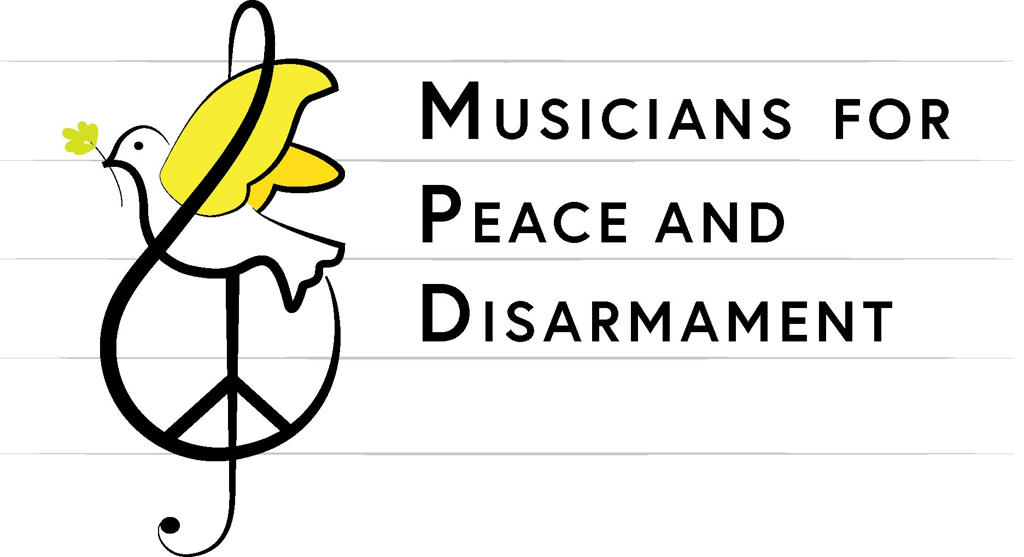 PRESIDENT John Williams OBE
PATRONS Frankie Armstrong * Michael Berkeley * Wissam Boustany * Martyn Brabbins * Billy Bragg * Phil Collins * Sir Mark Elder * Bryan Ferry CBE * Dame Jane Glover DBE * Julian Jacobson * Dame Emma Kirkby * Dame Cleo Laine * Ralph McTell * Colin Matthews OBE * Riccardo Muti * Michael Nyman CBE * Mary O'Hara * Sir Simon Rattle * Peggy Seeger * Roger Vignoles * Judith Weir CBE
PAST PATRONS Steuart Bedford OBE * Leonard Bernstein * Sir John Dankworth * Sir Colin Davis * Antal Dorati * Sir Charles Groves * Lynn Harrell * Emanuel Hurwitz * Kay Hurwitz * Nona Liddell * Ewan MacColl * Sir Neville Marriner * Sir Peter Maxwell Davies * Jessye Norman * Sir Peter Pears * William Pleeth * Bernard Roberts * Robert Simpson * Sir Georg Solti * Ronald Stevenson * Sir Michael Tippett * Paul Tortelier * Stan Tracey

Musicians for Peace and Disarmament was founded in 1983. Originally known as MANA, Musicians Against Nuclear Arms, it was the brainchild of a group of musicians and music lovers who had the idea of organising concerts by professional musicians to raise funds for the peace movement. Since then it has donated over £75,000 to organisations within the peace movement. Over the years many leading conductors, soloists, orchestral players and chamber musicians have taken part in our regular concerts, and continue to do so, with everyone giving their services for free. At most of our concerts a speaker is invited to give a short address. As well as our musical activities we produce a quarterly newsletter. MPD's president is the distinguished guitarist John Williams and our patrons are all prominent and influential figures drawn from many different areas of the musical profession. Our new name, MPD, was adopted a few years back to reflect today's wider but still urgently relevant concerns for world peace. MPD is affiliated to CND and Network for Peace and membership is open to anyone with an interest in music and a desire to further the cause of peace.
---
Upcoming Concerts
Saturday 16th October, 2021, 7:30pm
St. Mary's Barnes, Church Road, SW13 9HL
Piano recital by Julian Jacobson with Mariko Brown
Programme
Rameau
La poule from Pièces de clavecin
Debussy
Suite bergamasque
Poulenc
Novelette No.1
Kapustin
Piano sonata No.6
interval
Ravel
Pavanne pour une infante défunte
Gershwin
An American in Paris (arr. Jacobson)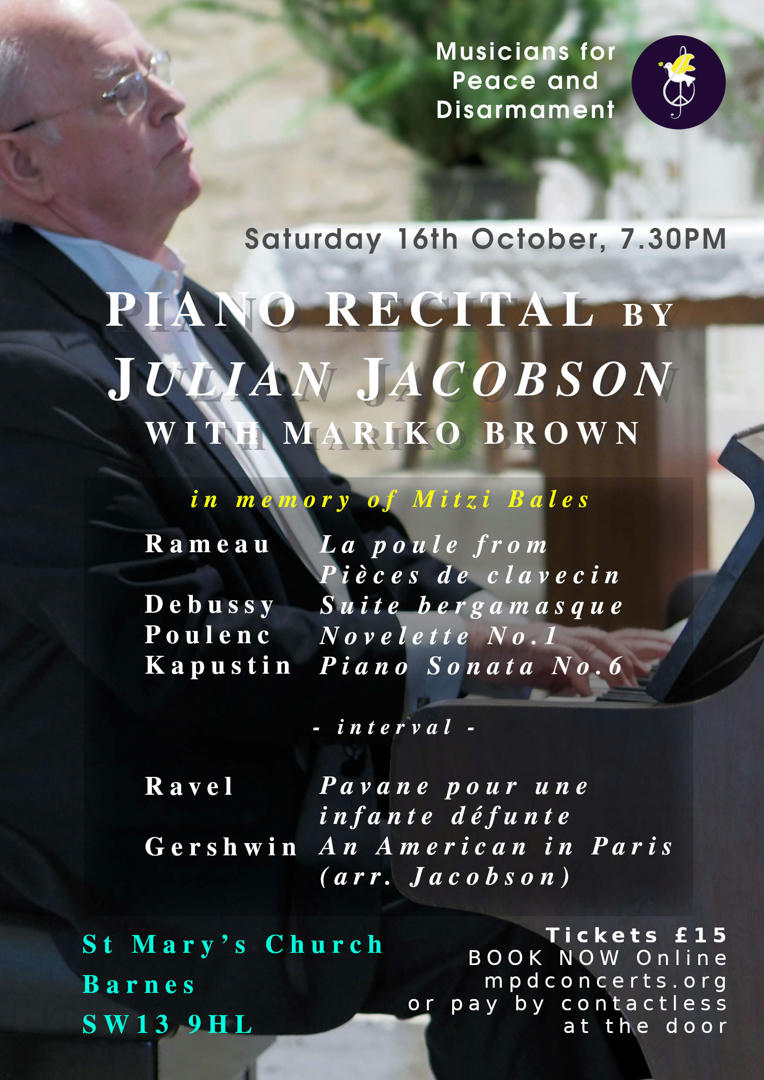 ---
We are very sad to announce the news of the death of our long-time committee member, Mitzi Bales. Her mother, a refugee from Lithuania, settled in the United States; in her early life, Mitzi endured a certain amount of hardship – something which helped to form her character: tough, down to earth, but with a particular sympathy with the under-privileged and socially oppressed. When she came to live in Britain, she worked as a journalist, and was an active member of the NUJ; as a committee member of MPD, she took on the role of newsletter editor for a number of years.
Mitzi's wide range of interests included music, Japanese art, ceramics, and antique furniture (our committee meetings took place in her flat around a huge oak refectory table dating from the 16th century). Her large circle of friends came from many walks of life, and there was a seemingly endless supply of people she could call on to act as stewards at MPD concerts. Mitzi's 90th birthday celebrations were hosted by the staff of a local Nepalese restaurant, who had formed a close bond with her.
In her last years, Mitzi's illness caused her much suffering, which she bore with great courage. In spite of failing strength, she worked for MPD until the end, with commitment and generosity, and she will be much missed by everyone. MPD's October concert will be dedicated to her.
---