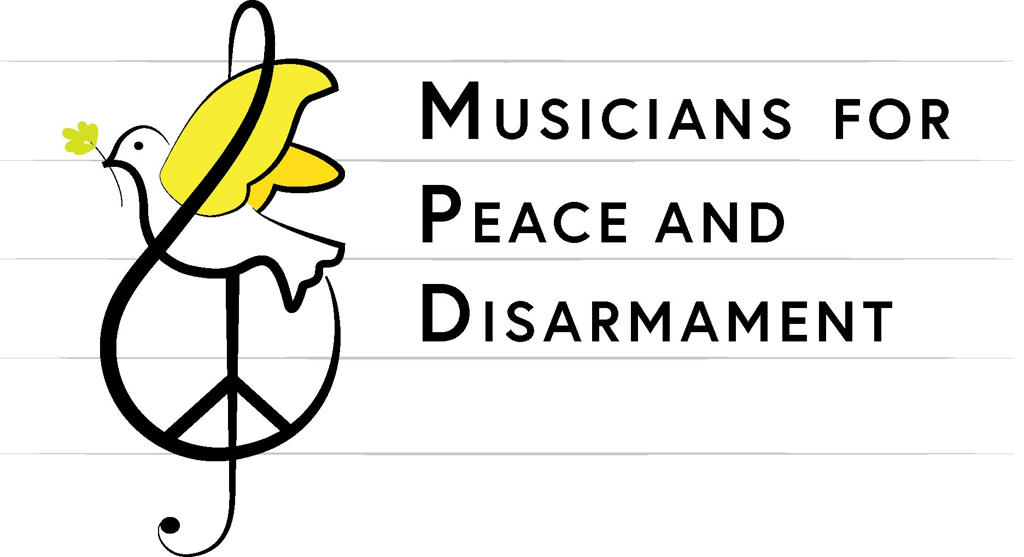 PRESIDENT John Williams OBE
PATRONS Frankie Armstrong * Steuart Bedford OBE * Michael Berkeley * Wissam Boustany * Martyn Brabbins * Billy Bragg * Phil Collins * Sir Mark Elder * Bryan Ferry CBE * Jane Glover CBE * Julian Jacobson * Dame Emma Kirkby * Dame Cleo Laine * Ralph McTell * Colin Matthews OBE * Riccardo Muti * Michael Nyman CBE * Mary O'Hara * Sir Simon Rattle * Peggy Seeger * Roger Vignoles * Judith Weir CBE
PAST PATRONS Leonard Bernstein * Sir John Dankworth * Sir Colin Davis * Antal Dorati * Sir Charles Groves * Lynn Harrell * Emanuel Hurwitz * Kay Hurwitz * Nona Liddell * Ewan MacColl * Sir Neville Marriner * Sir Peter Maxwell Davies * Jessye Norman * Sir Peter Pears * William Pleeth * Bernard Roberts * Robert Simpson * Sir Georg Solti * Ronald Stevenson * Sir Michael Tippett * Paul Tortelier * Stan Tracey

Musicians for Peace and Disarmament was founded in 1983. Originally known as MANA, Musicians Against Nuclear Arms, it was the brainchild of a group of musicians and music lovers who had the idea of organising concerts by professional musicians to raise funds for the peace movement. Since then it has donated over £70,000 to organisations within the peace movement. Over the years many leading conductors, soloists, orchestral players and chamber musicians have taken part in our regular concerts, and continue to do so, with everyone giving their services for free. At most of our concerts a speaker is invited to give a short address. As well as our musical activities we produce a quarterly newsletter. MPD's president is the distinguished guitarist John Williams and our patrons are all prominent and influential figures drawn from many different areas of the musical profession. Our new name, MPD, was adopted a few years back to reflect today's wider but still urgently relevant concerns for world peace. MPD is affiliated to CND and Network for Peace and membership is open to anyone with an interest in music and a desire to further the cause of peace.
---
Next Concert
Friday 7th August, 2020 at 7pm
Online Event
Music in memory of Hiroshima and Nagasaki – CND with Musicians for Peace and Disarmament
Join CND and Musicians for Peace and Disarmament to remember the bombings of Hiroshima and Nagasaki through the medium of music. Music across the centuries, bringing beauty and offering hope for a better world.

With performances from Susanne Stanzeleit, Roger Vignoles and Guy Elliott, Julian Jacobson, Wissam Boustany, Frankie Armstrong. Hosted by CND General Secretary Kate Hudson, with special guest Bruce Kent.


Tap the image below to pre-register.
The event will also be streamed live on CND's Facebook page.
For any enquiries, please contact information@cnduk.org